Choose Your Own Adventure Fundraiser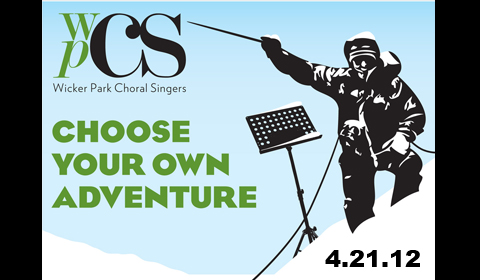 Join the members of Wicker Park Choral Singers for their first foray into fundraising.  This interactive evening will be sure to entertain with delectable hors d'oeuvres, beer and wine, and a fantastic selection of choral music chosen by you!   How will you choose your entertainment for the evening?  That's easy!  After the choir gives you a taste of what they have to offer, simply drop your voting tokens in the containers for whichever pieces you'd like to hear start to finish.  At the end of the night, they'll perform a choral adventure perfectly tailored to your musical tastes.
Standard admission includes two voting tokens, and an Adventurer ticket will include 15.  Additional tokens may be purchased at the event for $1 each.
See the video! http://vimeo.com/40452893
When: 7pm - 10pm, Saturday April 21, 2012
Where: Jackson Junge Gallery - 1389 N Milwaukee Ave, Chicago, IL 60622
Price:$30
We look forward to seeing you there. Space is Limited so get your tickets today!
Because alchoholic beverages will be served, attendees must be 21+