Call For Scores - Wicker Park Choral Singers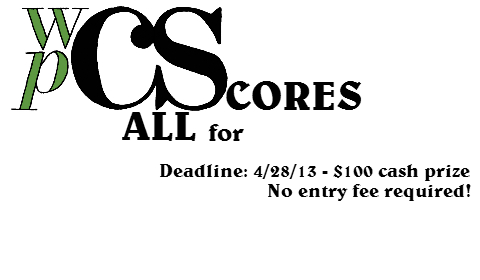 CALLING ALL COMPOSERS! (Download full PDF version of rules and regulations) Wicker Park Choral Singers (WPCS) is a Chicago-based ensemble of more than forty skilled singers dedicated to enhancing awareness of the canon of choral music. We believe that everyone loves choral music; they just might not know it yet. As a composer, you can help us show people just how much they love choral music by writing fantastic new pieces for us to perform.
Specifically, we are currently accepting submissions of scores for us to perform at our upcoming summer concert on Saturday, June 22, 2013. The concert theme is on the subject of our Chicago community. We are interested in seeing works from upcoming composers that fit ONE of two criteria:
The composer currently or has previously lived in the Chicagoland area.
The piece is somehow related to the city of Chicago –neighborhoods, landmarks, history, architecture, people, anything at all.
Whether you are from Chicago or not, we don't mind. We only wish that the piece can speak to you the composer as well as our audience and provide us with a reflection of our wonderful community.
Why Write For WPCS? • Nearly all of our performances are free and open to the public. As such, our concerts are among the best attended in the city of Chicago when compared to similar sized organizations.
• Most of our singers are very skilled and have sung in high-caliber ensembles in college or elsewhere prior to joining WPCS.
• We are committed to delivering a world-class performance of your music. We rehearse one day per week for 2 ½ hours. A typical concert program consists of 10 to 12 pieces totaling 50 minutes of music. We try to have 12 rehearsals to prepare for a concert.
SUBMISSION RULES: 1. Composers of any age and any nationality are allowed to submit up to TWO works.
2. Entries shall be scored for men's, women's, or mixed choir, scored a cappella or with solo instrumental accompaniment.
3. If the text is not in the public domain, composers must submit a letter confirming that permission has been given from the author, poet, or rights holder to set the text to music.
4. Duration of the piece should not exceed 10 minutes.
5. Works may be in any language.
6. Non-Traditional notation is acceptable as long as there is clear definition of terms and symbols provided along with the piece.
SUBMISSION GUIDELINES: 1. There is no entry fee for submitting scores.
2. Application Deadline is Sunday April 28th by Midnight (Central Time Zone). We will gladly accept submissions before this date as it will allow for more rehearsal time. Each submission will be evaluated on its own merit - not in comparison to another composer's work. We are hoping to select several winners.
3. Your submission packet should include - a. A copy of the score b. A cover letter with the composer contact information including email, title of work submitted, duration of the piece, AND a brief description/story on how the piece    submitted adheres to our theme of the Chicago Community. c. Text permission letter (if applicable) d. Recording – midi file, workshop, or performance (if applicable)
4. Submissions sent electronically are preferred, as a PDF, mp3, or in a zip file. Submit electronically at mark@wickerparksings.org. a. If you wish to send your submission packet via postal mail, contact us at contact@wickerparksings.org and we will give you instructions.
5. The composers selected will receive a prize of $100, a concert performance on our summer program, and a professional recording of the performance. WPCS will handle all printing of scores unless otherwise specified.
6. It is possible that several or no works will be selected as a result of this call for scores. This is dependent on the quality of the submissions. If a composer's work is selected for a future concert instead of the upcoming summer concert, the same monetary award and guidelines will be followed.
7. Wicker Park Choral Singers will have non-exclusive license to perform the winning piece and shall have the right to record the performance for archival and other purposes, including distribution and sale of such recording.
Upon receipt of your submission packet, a confirmation email will be sent within 24 hours. Best of luck to everyone, and we look forward to seeing those scores!